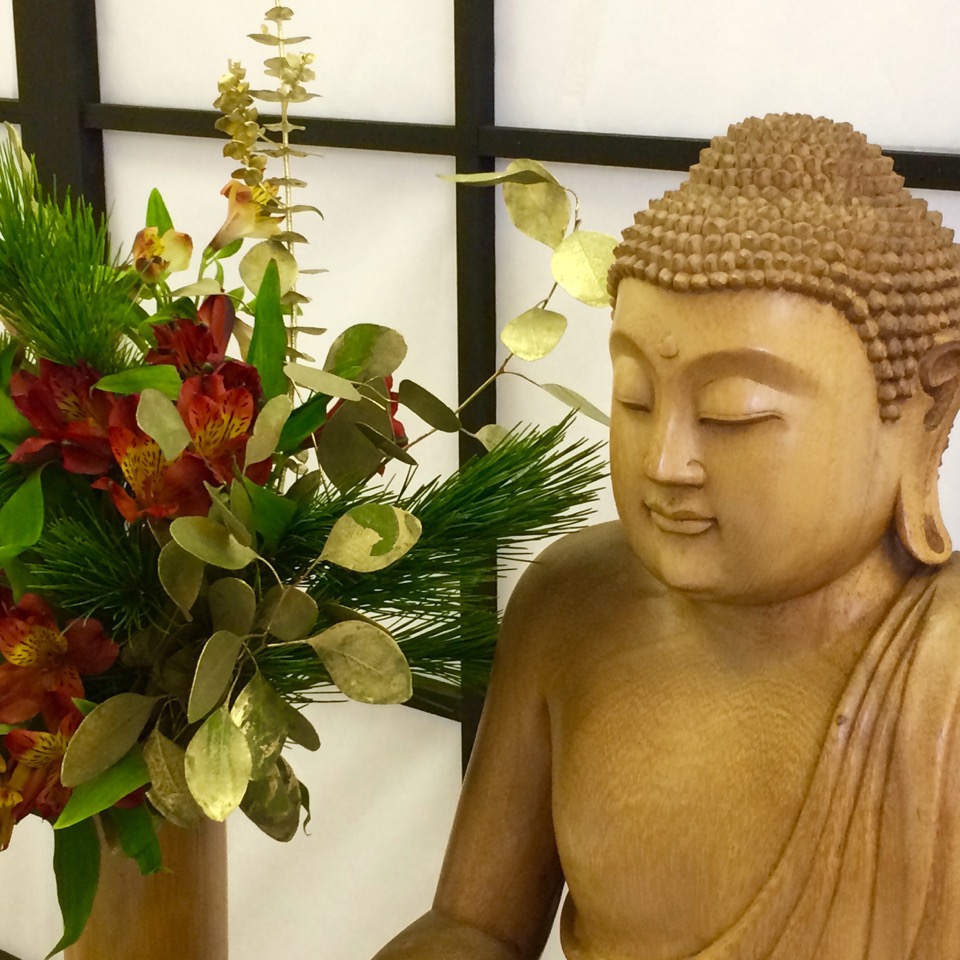 Sunday Morning Meditation
Sundays from 10 AM to 12 PM
Our Sunday Meditation session consists of two 25 minute periods of sitting meditation split by 10 minutes of walking meditation, service, dharma talk, and tea. Both beginning and experienced meditators are welcome. Meditation instruction is available. Donations are gratefully accepted but not required. Chairs and cushions (zafus and zabutons) are provided, but feel free to bring your own seating. Please contact us for further information and questions.
Ongoing Programs

Zen 101: Learn to Meditate

Once a month, on the first or second Wednesday, from 6 p.m. to 7:30 p.m. Zen 101 is a class designed for beginning meditators, those who are just curious about Zen, or those who want to refresh their meditation practice. This class covers the history of Buddhism, basic zen teachings, and meditation instruction. Tea and snacks are served. Suggested donation: $10.

Zen Movie Night

Once a month, usually on the second or third Friday, beginning at 7 p.m. We show movies with a range of Buddhist themes. Tea and snacks are served. Seating in chairs and floor cushions is available. Suggested donation: $10. Space is limited, so please RSVP to myogomacneil@gmail.com.

Zen Lecture Series

Our next special event is a three-day workshop, entitled "Compassionate Communication", April 25-27, at the Oakhurst Branch Library. See our Blog page for details and registration, available mid-April

Fall Zen Retreat

Affiliated Mountain Sanghas (Mt. Diablo Zen Group, Bodhi Oak Zen Sangha, and Into the Mountain Zen Group) will be hosting a Fall Zen Retreat from November 7-10, 2019 at ECCO, Oakhurst. Look for details starting in July, 2019

Special Events

Compasssionate Communication Workshop

Bodhi Oak Zen Sangha is delighted to offer the foothill community a three-day workshop entitled "Compassionate Communication – A Language of Life" based on the practice of Nonviolent Communication (NVC) developed by Marshall Rosenberg, Ph.D.

NVC is widely used and known internationally as a model of speaking and listening from the heart, a conflict resolution tool, a guide for personal development, and for many – a spiritual practice. It is taught in over 45 countries by over 500 certified trainers and hundreds of practitioners. This 3-day training delves into the principles and practical skill-sets of NVC that make this language so powerful within ourselves and in connecting with others.

The purpose of Nonviolent Communication is to speak and listen in a manner that creates authentic connection between people, and reduces defensiveness, blame, and subtle demands. The practice of NVC involves listening past the other person's criticism or judgments to hear the needs they are trying to meet. NVC guides us to our habits of mind and speech that create distance, misunderstanding, and stress; and supports us to express our needs in ways we are more likely to be heard and understood by others. At the heart of NVC is a belief that all human beings have capacity for compassion and empathy. We resort to violence or behavior harmful to others when we do not recognize more effective strategies for meeting our needs.

Two internationally certified NVC trainers from NVC Santa Cruz (nvcsantacruz.org) will present an experiential workshop for participants to learn this powerful system by increasing awareness and integrating new skills to augment out natural wisdom and compassion.

Jean Morrison, MA, has been providing trainings, consultation, and mediation for groups and organizations in the areas of health, education, business, and restorative justice since 1985, and with individuals, couples, and families who want more satisfying relationships and harmonious interactions.

Kristin Masters is a facilitator, mediator and coach with NVC Santa Cruz. Kristin focuses on social change/justice, inner work and the intersection of NVC with interpersonal neurobiology. She values teaching NVC applications to personal and systemic challenges with engagement and creativity.

LOCATION: Oakhurst Branch Library, 49044 Civic Circle, Oakhurst, CA 93644

DATE/TIME: Thursday, April 25 – Saturday, April 27. 9AM-5PM daily

TUITION: $200 including vegetarian lunch all three days. ($50 deposit secures your place REGISTER: online at https://www.bodhioakzen.org/event/compassionate-communication-workshop/ or by printing the registration form and sending your check to Bodhi Oak Zen Sangha, 40879 CA-41, Suite 1-I, Oakhurst, CA 93644. For further information: 559 642-7470.
January

2020

Mon
Tue
Wed
Thu
Fri
Sat
Sun